Activities Couples Can Do to Stay Connected During Quarantine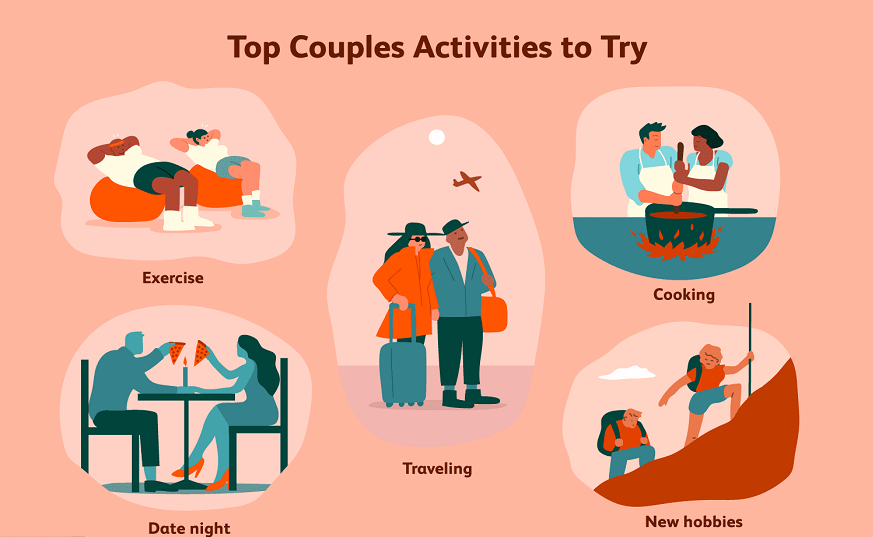 Just because you and your partner are stuck at home together, it doesn't automatically mean you're connected. A 2019 study found that more and more adult couples were choosing to live apart. This phenomenon is called living apart together or "LAT"—a relationship trend where couples choose to live apart even though they're committed to each other and the relationship. The study found that 39% of adults who were partnered chose to live apart from their significant others, which shows that for many, living together isn't a prerequisite for a strong relationship or marriage.
But what if you have no choice, like living through a pandemic, where stay-at-home orders and quarantines are announced intermittently? Staying together and fighting cabin fever take work and commitment, and a big part of that is engaging in activities that help foster your connection with your spouse or partner. Here are some fun and healthy ideas for activities you and your significant other can enjoy while on lockdown, lest you drive each other crazy by being together 24/7.
Do essential activities together.
If essential activities, like grocery shopping and doctor's appointments, are the only opportunities for you to leave your house, don't hesitate to do it together. Take it a step further by booking an appointment with your nearest waxing salon or barbershop. Doing mundane errands will provide you both with a semblance of normalcy in these abnormal times.
Get some fresh air together.
In the same manner, don't hesitate to leave the house for exercise. As long as you're wearing your masks and keep a safe physical distance from others, it should be safe for you both to go on a simple hike outside. Walk your dogs together and get some fresh air. It will help you combat cabin fever and will remind you that there is still an outside world waiting for both of you when all this is over.
Dress up as if you were going somewhere fancy.
Your fancy clothes must have been feeling lonely for months now. Whip out your best outfits every once in a while by planning date nights that require you and your partner to dress up, even if you're not going anywhere. Cook a fancy candlelit dinner and try to replicate the fanciest dates you've had before the pandemic hit. Another idea is to plan a themed date based on what TV show or movie you're watching—all the more fun if it's something that takes extra effort, like a period drama. While you know your partner will always be attractive to you no matter what they're wearing or how they look, dressing up every once in a while is a great way to switch it up during quarantine.
Play games.
If you and your partner are the competitive types, nothing brings out a feeling of friendly competition by playing some games together. If your significant other is into video games, maybe now is the time to bond with them by learning their favorite game and playing it together. You could also play some games that require teaming up together or coming up with strategies to defeat a common enemy; it can help improve your teamwork and problem-solving skills.
Explore new cuisines.
Tackling new challenges together is also a great way to build a connection and admiration for each other. Make cooking more fun by challenging yourselves to whip up dishes that you don't normally make and eat. Go on a trip around the world through new cooking and gastronomic experiences. Plan a meal schedule where you have to go through different international cuisines at least once a week. It will be a wonderful way to improve not just your connection but also your palates.
Write down your love story.
If you've never taken the time to appreciate the journey you've taken to get to where you are now, being in quarantine together is a good time to remember and write down your love story. If you have a gift for words or other forms of creativity like drawing, document your entire love story in new and imaginative ways. Make a scrapbook or write a novella inspired by your real-life experience. If you plan on having kids one day, it will be a great way to involve them in their parents' story, even if they weren't there to experience it.
There is no shortage of activities you can do and steps you can take to maintain a connection with your significant other, especially during a difficult time such as the COVID-19 crisis. So fight for your relationship and engage each other through fun activities that will one day help you look back on these times with fondness.