A Mom's Guide to Conquering Cradle Cap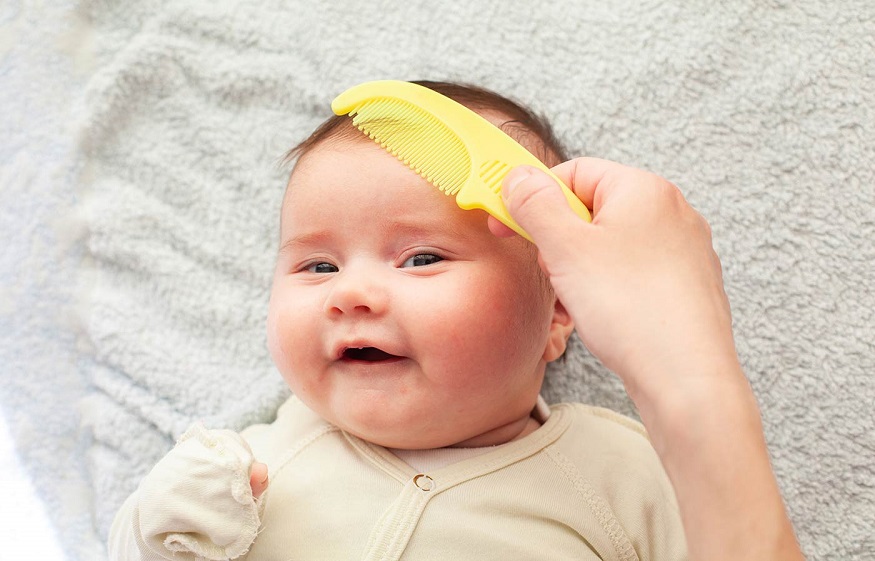 Babies are blessed with a soft, glowing skin that looks flawless most of the time. However, it's not unusual for them to get baby acne, bumpy rashes, or weird-looking skin conditions that might make you fret in an instant and search for the best remedy the next. Putting you in the role of a detective, these conditions can be a tad worrisome for parents who wish to watch their little bundles of joy giggling without any discomfort for eternity.
As your baby hits the milestone of brightening your world for three months, you might notice thick, yellowish, and crusty patches on the baby's head. These patches, also known as cradle caps, are a common occurrence in the first year of a baby's life. Also referred to as neonatal seborrheic dermatitis, milk crust, crusta lacteal, and honeycomb disease, the condition is often a result of the build-up of body oils and old skin. You might hardly notice it if your little one has a lot of hair but if you have a baldy little one, it might be all that you can see. Although you are most likely to notice the cradle cap on your baby's tiny head, it might spread to other body parts such as eyelids, nose, ears, or groin – this isn't common though.
What are the symptoms?
Cradle cap is characterised by scales that may appear greasy, cracked, or even weeping. Your adorable baby might also have redness on the scalp. In some babies, there might be a thick layer, covering the entire scalp which might become flaky with time.
Mild cradle caps typically resolve on their own within a few weeks or months. The condition is not usually itchy or painful. So it can be managed at home easily.
How do super moms handle cradle caps?
No magical remedy exists to make the cradle cap disappear instantly. However, there are things you can do to alleviate the symptoms while the cradle cap runs its course.
Rub in some oil:
Baby oil has been the treatment du jour when it comes to cradle caps. However, with so many baby oils available, it can be challenging to find the best natural baby oil for baby skin.Products such as goodness.me certified organic baby oil are entirely safe, gentle, and makes baby care hassle-free. Rub the oil onto the affected areas of your baby's scalp and skin, right before taking the baby for a bath. Massage gently and do not attempt to take the scaly skin off right at this moment. Do not assume that using the oil in abundance would help loosen the patches quickly. Allow the oil to settle and loosen the dry patches.
Brush it away:
While your baby is still in the bath, wet his/her hair using lukewarm water. Using a dry washcloth or soft brush, rub the affected area gently to get rid of scales.
Shampoo and rinse:
Using a gentle, safe, and hypoallergenic shampoo, clean the baby's scalp! Allow the shampoo to soak up the oil before rinsing it off. Only the best natural baby wash and shampoo must be used for this step. goodness.me certified organic baby head-to-toe wash is a 3-in-one cleanser that keeps your baby's face, hair and body clean, soft and irritation-free. Its tear-free formula ensures that your baby enjoys bath time instead of being cranky while at it.
Pat dry:
Once you have a fresh, clean baby in your arms, gently towel dry his/her body and scalp. Do not rub too hard and use a soft brush to remove some of the scales that might have loosened but didn't get washed off during bath.
Repeat if required:
A cradle cap might take a few treatments to vanish completely from your little one's head. So be patient. It's common for parents to assume that washing often will help solve the problem faster. The fact is, it can actually worsen the problem.
When to consult a doctor?
If the condition worsens, spreads to many other areas or doesn't go away with home treatment, it's essential to consult the doctor who might prescribe a shampoo to solve the issue. goodness.me certified organic head-to-toe wash is paediatrician certified, dermatologically tested, hypoallergenic, cruelty-free and entirely safe for your baby.
Are you ready to tackle your bub's scaly scalp?  We are sure you are!