How does a trampoline incorporate into your garden design?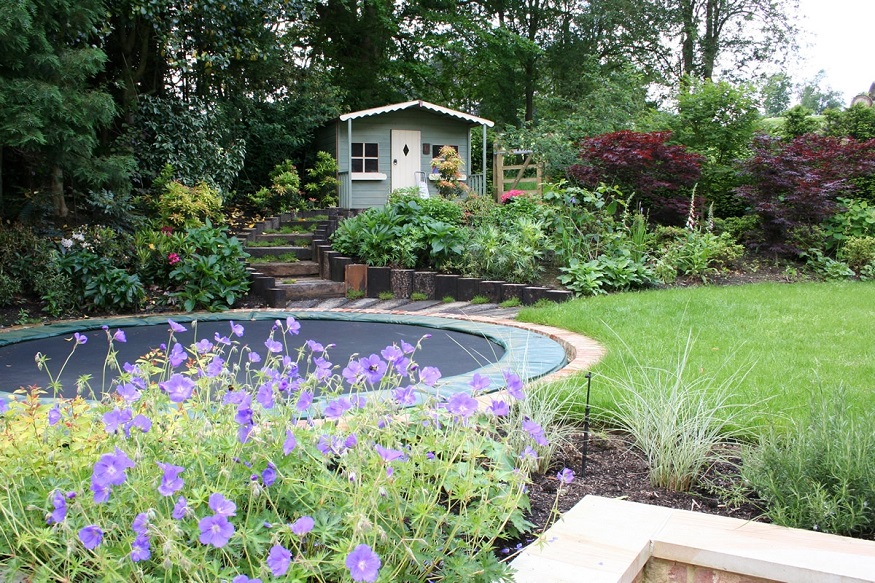 We get a lot of customers asking for ideas on how they can design their garden around their Springfree trampoline so what better time to explore the ideas than the start of Spring! Time to get garden ready!
Here in the UK we like our landscaped gardens to be somewhat spectacular! It's aplace where you can escape from the everyday hustle and bustle but also for spending time with friends and family. Landscaping your garden is a very personal experience giving the children their own fun zone ensures safe play which provides Mum and Dad reassurance and your own space.
So, how best to incorporate a trampoline into your garden design?
Most concerns seem to be the look of your trampoline… being an eyesore and making a great space look busy or unattractive. Springfree Trampolines have the benefit of merging in, with an all-black safety enclosure net, jump mat and frame your eliminating that fear of standing out. You can also opt for our popular Black Rod Sleeve upgrade that gives your garden trampoline a slick and smart all black finish.
Black is known to be a great blending colour (also known to be slimming) which is why Springfree choose it, but we also wanted to incorporated quality… so the Black Rod Sleeves are coated in an Australian grade UV coating to ensure it stands the test of time. So not only does it look cool, it's designed to last!
You can also make your trampolinemore discreet by thinking about its position within your garden.Placing it into a corner out of the way from the adults seating area can be a great idea when the children are older.
You could design the area around your Springfree trampoline to suit yourindividual taste. There are so many different ways you can incorporate your trampoline, here are few design ideas:
Add borders around the trampoline making the area safe, neat and tidy
Flooring – have you considered safety flooring, it can look very modern or super fun!
Make the trampoline your centre piece – make it stand out, go for it
Hide it…install the trampoline into the ground
Hide it…create a shrub and hedge wall to camouflage it
Create your own home gym – save the membership pennies
Flooring
To create a safe yet fun area for the kids you can opt for wet pour… the spongey safe tarmac you'd find in a local park or at the school playground. This is a great choice for a low maintenance option when considering your garden design. For a more cost-effective surface, you can also choose wood chippings or play bark, astro-turf or grass and even traditional paving stones.
Depending on the area you've chosen within your garden and the design, some will be easier to lay than others.
By designating &creating a specific area for the trampoline, means it will be easier to keep tidy and best of all, you'll never need to move it
Making your Springfree trampoline the feature in your garden design.
Build your Springfree into your garden environment, instead of hiding it in a corner. After all you do own the World's SAFEST and BEST trampoline, be proud and shout it from the rooftops! (or save your voice and show it off to your neighbours).
There are so many garden design looks and themes you could go for. You could pick a tropical theme and have palm trees and solar spot lights, go elegant and have hydranger bushes and fairy lights or simply have every child's dream with more garden games and toys! The possibilities are endless!
Maybe even give your garden a wacky twist or keep it modern, minimalist or a relaxing country home feel. It's all down to your personal preference!
Themes don't have to involve additional objects, you could have a colour themed garden. Go monochrome with beautiful white flowers, grey paving stones and your all-black Springfree. Or, go bright and cheerful; find the brightest flowers to match the illuminating green astro-turf and yellow stitching within your trampoline mat or Springfree ball.
Who said garden designing had to be simplistic? Add a little character and bring your Springfree trampoline to life. There are many ideas out there, either online using Pinterest or in garden landscape magazines.
Another popular way to design around your trampoline is to dig it into the ground. It's more common with traditional spring based trampolines than a Springfree, due to oursafe design.It's also not a service we can provide or recommend. That being said, it's another way to hide your trampoline… but it does come with a lot of ground work. Not only digging a hole into the ground but a small channel as well to let any excess rain water drain out. This does work really well with split level gardens. Top tip, to make your in-ground garden design more modern, add decking to surround your trampoline. Its child friendly and gives a great finish.
To install a Springfree trampoline in-ground, we must advise that it can only be sunk up to a certain point to ensure the composite rods bounce correctly and the surrounding enclosure rods are able to flex outwards. We recommendonly place the trampoline in-ground where the enclosure rods meet the frame.
A few of our customers have followed this garden design which gives their garden a real quirky feel!
For more advice on in-ground Springfree trampolines, you can get in touch with a Springfree team near you.
As well as using the trampoline for fun, exercise is another great way to incorporate your favourite garden trampoline. If you're a gym buff and you already have a section for fitness equipment, add a Springfree trampoline into the mix! Trampolining is a great source of exercise which has been proven by NASA – 10 minutes of bouncing is the same as a 30-minute run. So, add trampolining to your daily routine and get bouncing!
The world is your oyster when designing your garden.